Achieving excellent fitness over 50 doesn't require you to be a "gym rat" who spends 2 hours a day, 6 days a week slaving away in the gym in pursuit of results.  In fact, that's the worst way to boost your level of fitness when you're over 50.
When you're over 50 your body needs more recovery time between intense workouts than when you're 20.  Besides, now that we're over 50, who wants to spend 12 hours a week in the gym, if you can get great results in only 90 minutes a week?
Many people are skeptical that only 90 minutes a week working out can produce excellent fitness results.  But the over-50 clients I work with are doing exactly that.  Here's what one recently had to say:
"I'm still rocking this program you have opened my eyes to! I feel really good. Not only do I see the physical changes but so does my wife.  The duration is perfect for my schedule.  I love the program! " Jay, New Hampshire USA
This post will go over how to improve functional fitness via resistance exercise in 45 minutes twice a week.
Related Content on how to achieve fitness over 50:
How to achieve excellent fitness over 50 in 90 minutes a week
How can I improve my fitness at 50?
There are 4 components of Physical Fitness: muscular strength, cardiovascular endurance, flexibility, and body composition (percentage of body fat).
Of the 4, muscular strength is the one that holds primary importance.  Strength is called upon more often in life than cardiovascular endurance or flexibility, and plays a central role in body composition.
So strength training should be the foundational component of your overall fitness plan.
And a properly performed strength training program will positively affect cardiovascular endurance, flexibility, and body composition, but endurance training, stretching, or dieting do not improve muscular strength.
Strength training gives you the biggest "bang for your buck", and done properly requires very little time – under 45 minutes a couple times a week.
Maintain mobility and build a base of strength
To build a base of strength, we want to not only strength train the large, superficial muscles of the body, which are readily visible, but also the smaller deep muscles of the body, which serve to hold us together and protect us from injury.  So a good strength training workout for someone over 50 will include exercises for both.
To maintain mobility, right after the strength training workout is a great time to do a little stretching, especially for the shoulders and hips, which can lose 6 degrees of range of motion per decade after age 55. (See the study here)
How can I get stronger at 50?
For the large superficial muscles I mentioned, you can cover your full body with 5 different movements:
#1. Lower body push – leg press, ball squat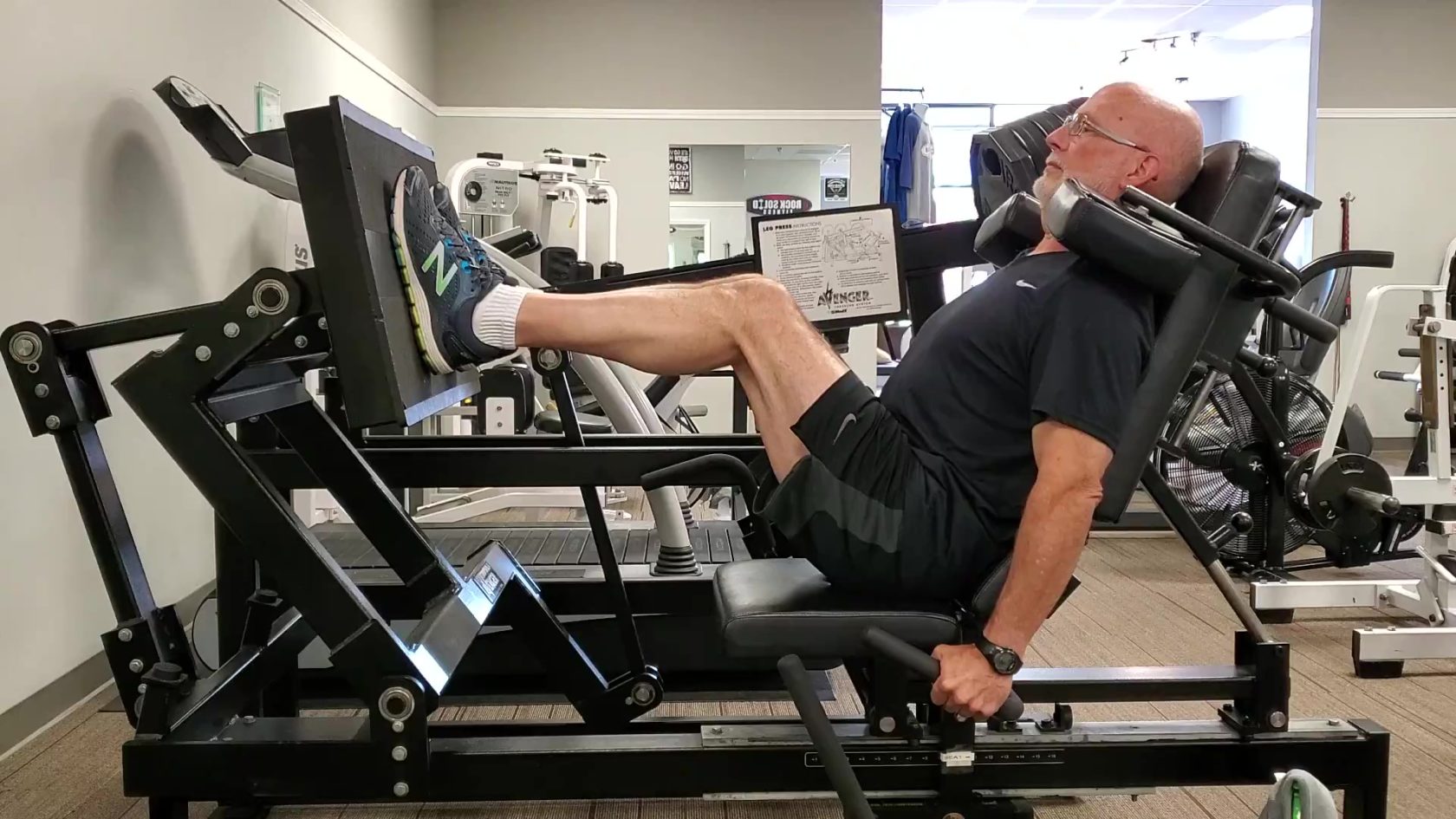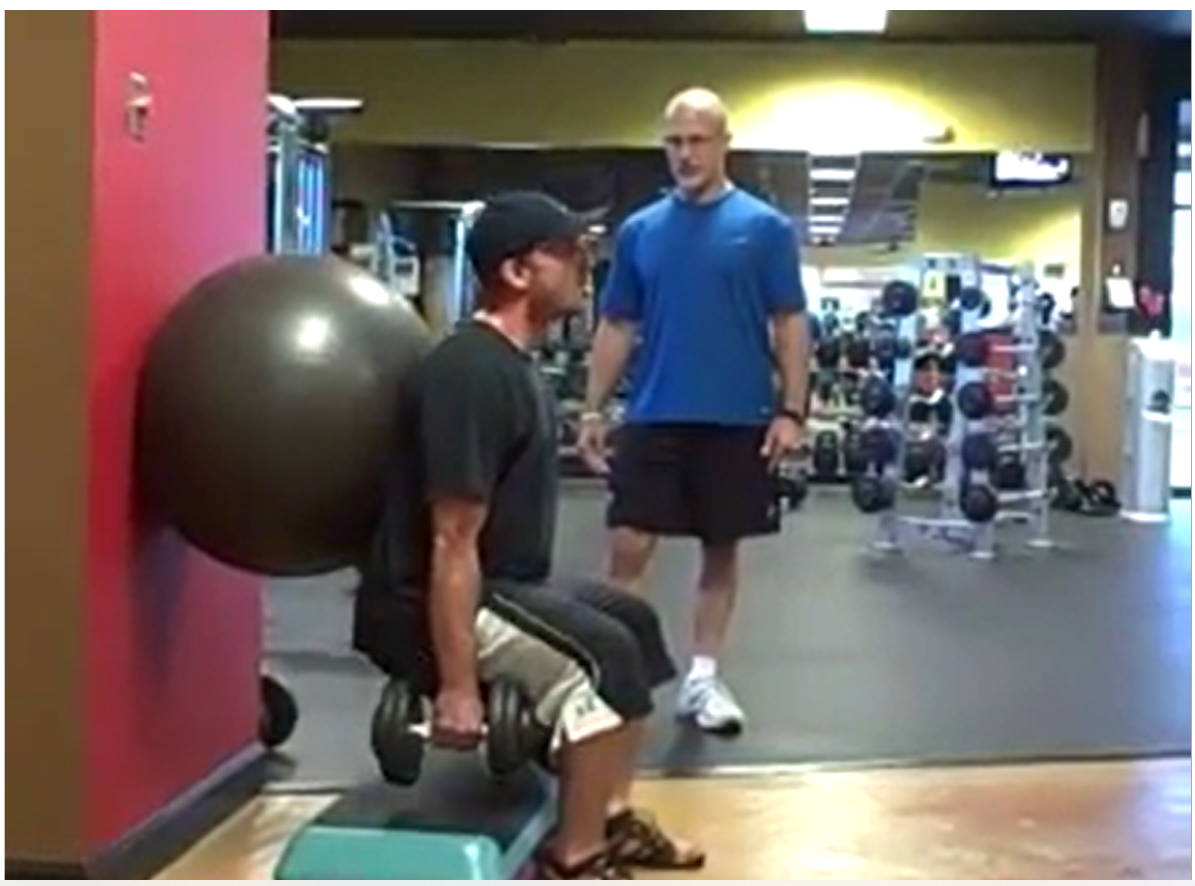 #2. Lower body flexion – leg curl, calf raise
#3. Upper body push – chest press, dumbbell shoulder press
#4. Upper body pull – pulldown, 1 arm dumbbell row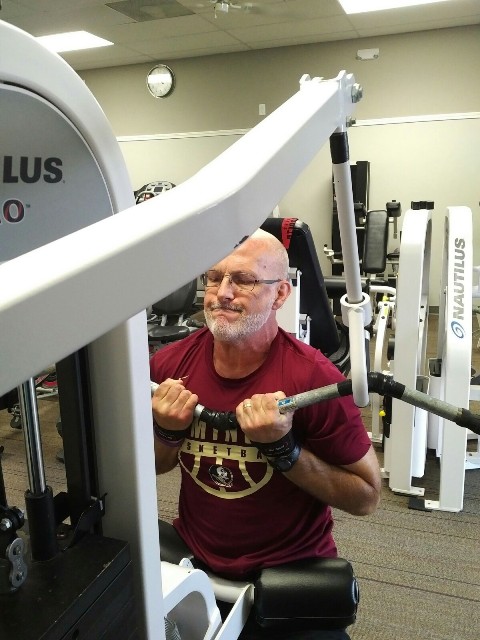 #5. Midsection – Ab crunch, back extension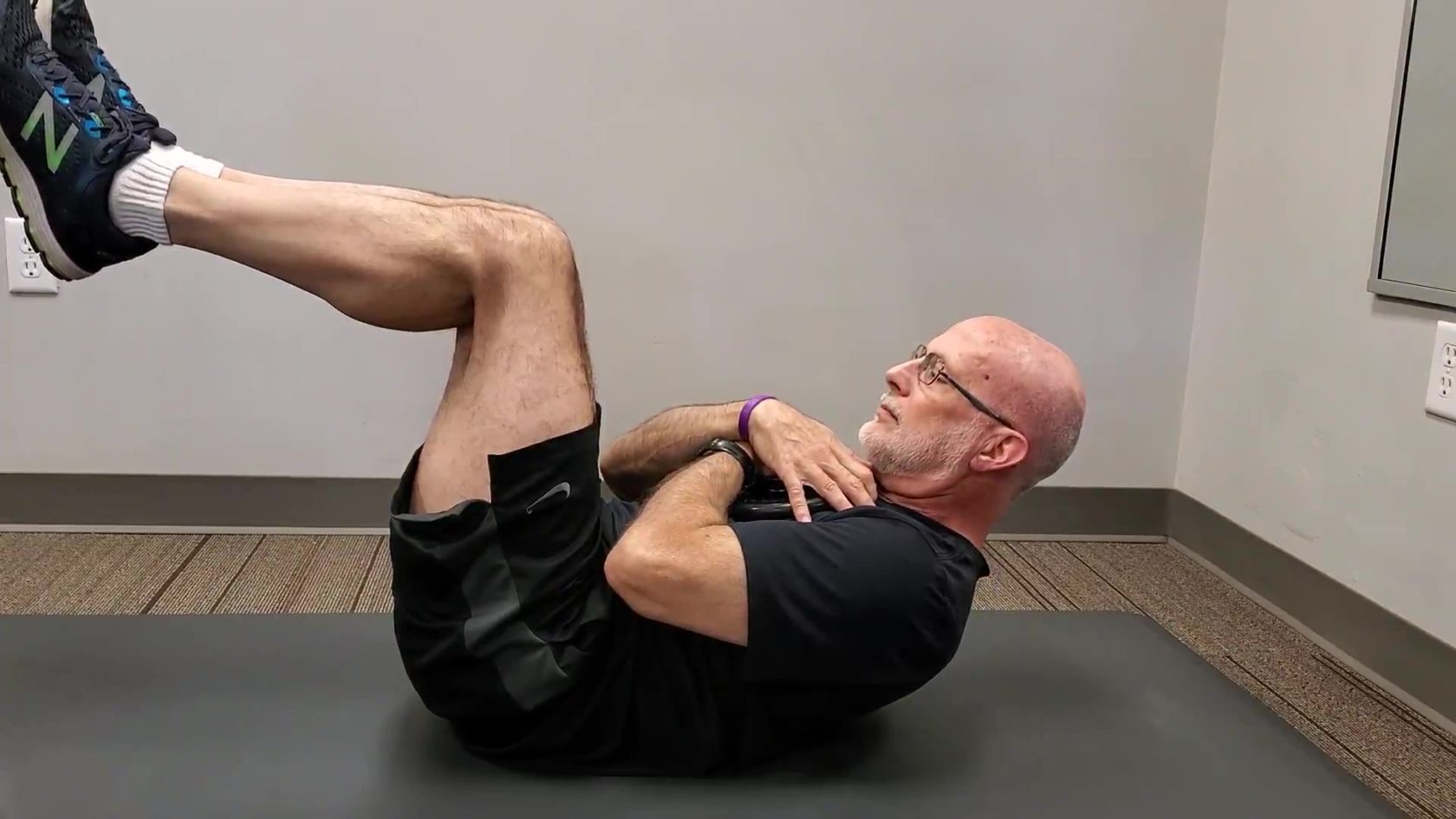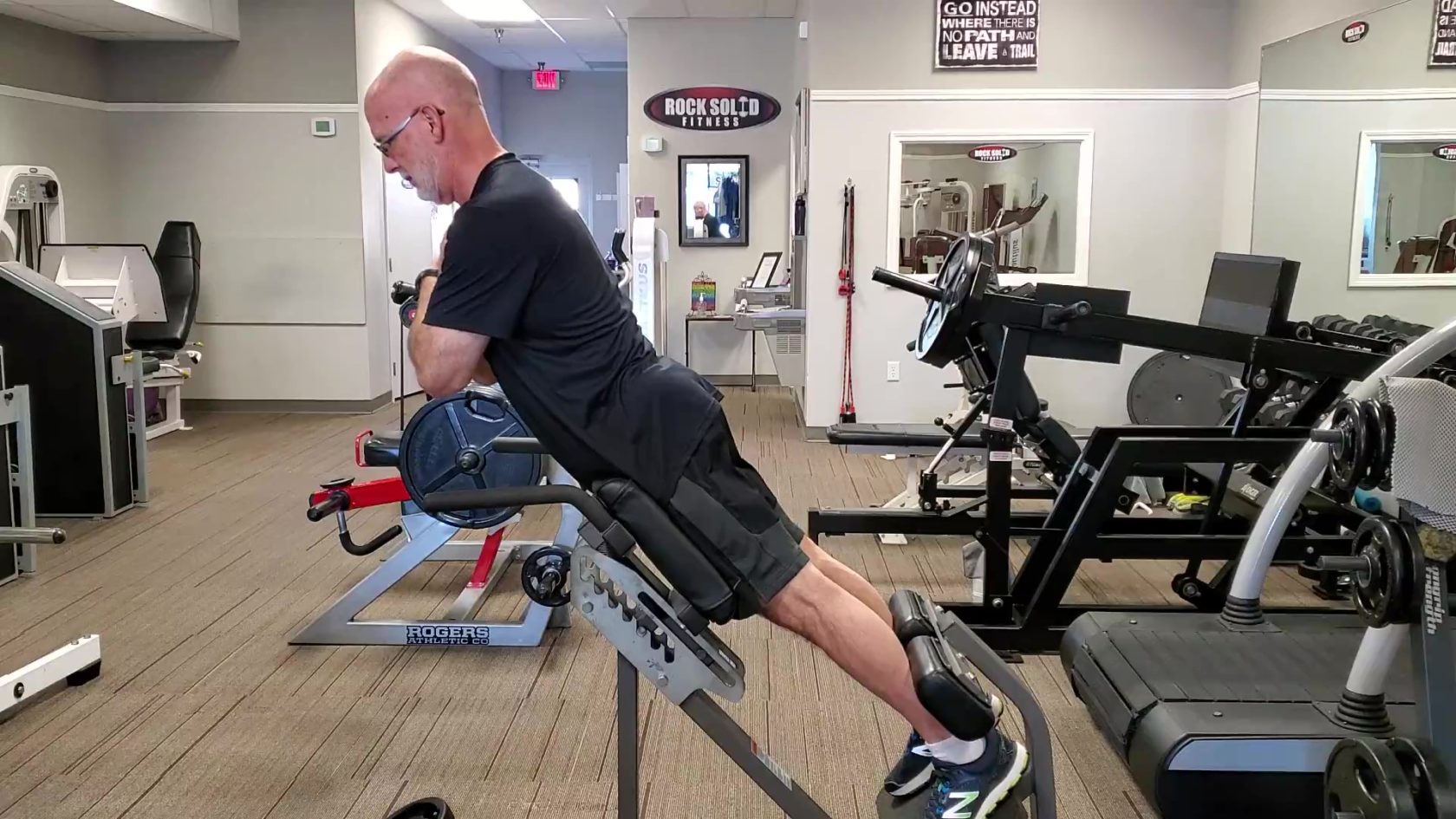 Now we move on to the smaller deep muscles of the body, such as the rotator cuff muscles of the shoulder, the neck muscles, or the gripping muscles in our hands.  I call exercises for these muscle groups Rebuilding exercises.
You want to pick exercises for areas of your body that have either been injured in the past, or that you feel are especially vulnerable to injuries in the future.  So the exact exercises vary based on each individual's personal situation, medical history, and available equipment.
I usually recommend 3 of these rebuilding exercises per workout, bringing the total number of exercises performed to 8.
Perform one set of each exercise using controlled, momentum-free reps with a maximum effort, meaning at the end of the set you can't perform even one more rep with good form.
How often should a 50 year old workout?
Once you get the hang of things, this whole process takes under 45 minutes, and you only need to do it twice a week.
Schedule an appointment with yourself, and commit to keeping it no matter what.  Try to have 2-3 days between strength training workouts, i.e. strength train on Monday/Thursday, Tuesday/Friday, Wednesday/Saturday etc.
I also recommend engaging in low to moderate intensity leisure activities or exercise on your non-strength training days.
You may not be aware of physical changes that can make your old workout risky
By now you can probably tell that the strength training routines you used in your 20's aren't cutting it anymore.  Your body is different now.
You start feeling the effects of age-related wear and tear on your 50- or 60-year-old body.  Injuries from the past are coming back to haunt you with chronic aches and pains, and new injuries are much harder to recover from.
Exercises you might have loved in your 20's now might cause too much pain to perform with any meaningful resistance.  So you have to make adjustments to your strength training program to reflect these changes.
For example, performing a lower body pushing exercise on a leg press machine is a much safer option than performing barbell squats.  When you're young, you may be willing to accept that risk, but when you're older not so much because injuries are so much harder to recover from.
Note: To learn more fitness tips and how to get stronger after 50 without getting hurt or wasting time, get my free report "The New Rules of Strength Training Over 50" by clicking HERE.
Myth: "I haven't exercised my whole life, it's too late to start"
Right now is the only time we have.  5 years from now you'll be saying the same thing, and wish you would have started today.
None of use have a time machine to go back and start over.  Start now, you'll be glad you did, and on the right program you'll see immediate, dramatic and consistent results right from your very first workout.
Make exercise a priority in mid-life for fitness over 50
To maintain a high level of health and fitness over 50, 60 and beyond, perform a high-intensity (but safe) strength training and stretching program twice a week, and engage in low to moderate intensity activities of your choice (like hiking, biking, brisk walking etc.) 2-4 times a week.  Schedule appointments with yourself, and commit to it no matter what.
Do this consistently and you will enjoy a full, active life for many years to come.
What do you do to achieve and maintain fitness over 50?  Leave a comment below.