How to get motivated: showing up is half the battle
I've noticed a very interesting workout phenomenon over the years – both in myself and the people I've trained.  Perhaps you've experienced it too.
What happens is this: it's a workout day, but for some reason, the last thing in the world you feel like doing is working out.
Maybe you're physically fatigued from doing stuff in the yard the last couple days.  Or you had house guests staying with you that wore you out.  Perhaps it's you're first day back from an awesome vacation.
Whatever the reason, you're convinced that there's no way you're going to have an effective workout.  But you also know you're going to feel really guilty if you skip it.
You can't figure out how to get motivated, so you just drag yourself to wherever it is you workout, and with super low expectations, you get started.
And this is where the weird phenomenon kicks in: what you thought was going to be a horror show of a workout turns out to be one of your best days!
What's happening here?
In his book Feeling Good: The New Mood Therapy, eminent psychiatrist Dr. David Burns discusses this intriguing phenomenon.
According to Dr. Burns:
"Individuals who procrastinate frequently confuse motivation and action.  You foolishly wait until you feel in the mood to do something.  Since you don't feel like doing it, you automatically put it off.
Your error is your belief that motivation comes first, and then leads to activation and success.  But it is usually the other way around; action must come first, and the motivation comes later on.
It works like this: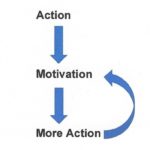 If you are a procrastinator, you probably aren't aware of this.  When someone suggests you do something, you whine, 'I don't feel like it'.  Well, who said you were supposed to feel like it?  If you wait until you're 'in the mood', you may wait forever!"
How to get motivated
So when it comes to workout motivation, the magic key when you don't feel like working out is to show up and get started.
If you do, you may discover for yourself the same thing that I have – that many times you not only have a great workout, you have one of your best ever!
And even if you don't, at the very least you won't feel guilty for not even showing up.
"Action is the foundational key to all success."  Pablo Picasso
So follow Picasso's advice on how to get motivated, and the workout you didn't feel like doing may turn out to be a masterpiece!
Has this phenomenon ever happened to you?  If so, leave a comment below!