Some people think that it's not possible to build muscle after 60.  Others think, "even if I could build some muscle, why bother at my age"?
Since you're reading this, you probably do think it's a good idea to build a little muscle after 60.
But perhaps you're wondering how much muscle mass can realistically be added at this age, what you'd have to go through to do it, and how long it would take – and whether or not the benefits would be worth the effort you'd have to invest to do it.
In this post, I'll go over how at 63 years old, I recently added 2.2 pounds of muscle in 4 weeks, performing only 4 workouts that each lasted under 30 minutes.
Related content on how to build muscle after 60:
Can a 60 year old man add muscle mass?
On May 16th, I began the 4-week InBody Challenge at Rock Solid Fitness, the personal training studio in Dunedin, Florida owned by my wife and me.
The Rock Solid Fitness InBody Challenge is a 4-week event where we form teams, and each team is assigned an Accountability Coach. We go through specially designed workouts, and monitor our diets with a calorie counting app.
Points are scored for different measures of progress, and at the end, the team and individual with the most points wins the Challenge (and gets a bunch of cool stuff) – but of course every participant wins also by stepping their workout game up and building that all-important early momentum.
The week prior to the beginning of the Challenge, we figure out our body composition using an InBody 570 body scanning device.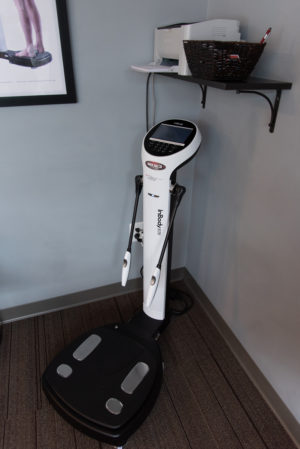 I did my pre-Challenge InBody scan on May 11th.  It showed I weighed 171.7 pounds, of which 76.9 pounds was muscle and 34.8 pounds was body fat, and my visceral fat level (the fat stored around your organs in your abdomen) was level 7.
How long does it take to build muscle after 60?
For the 4 weeks from May 16th to June 11th, I performed my Stay Strong Forever strength training workout once a week for 30 minutes, performing 1 set of 8 exercises.  I also tracked my calories every day and tried to keep my total calorie intake at around 2200 a day, while striving to get 125 grams of protein (or more) every day as well.
On June 14th, I did my post-Challenge InBody scan, and I was pretty happy with the results 🙂 .  It showed I gained 2.2 pounds of muscle mass, lost 3.6 pounds of body fat, and dropped 1 level of visceral fat from 7 to 6.
*The key takeaway is this: there's nothing special about me.  I just followed a system and had the discipline to work hard and stick to my commitments for 4 weeks.  There's no reason you can't do the same thing with the right program.
I'll describe exactly what I did to get these fast results below, but first I want to talk about "The Why".
Benefits of building muscle after 60
So why would somebody want to build muscle after 60 in the first place?
When you're over 60, strength training is less about appearance and more about health and function.  Building and maintaining a high level of muscular strength makes all physical activity easier, and allows us over-60's to have the highest possible level of pain-free function.
This brings the freedom to say YES to those bucket list items that create lasting memories, whether it's a family trip to Machu Picchu, trying paddle boarding for the first time, or even just being able to join in the backyard volleyball game at a family reunion.
Resistance training to building muscle has also been shown to reverse specific aging factors in skeletal muscle. (Pubmed)
Benefits of resistance training after 60 include:
Improved physical performance, movement control, walking speed, functional independence, cognitive abilities, and self-esteem.
Prevention and management of type 2 diabetes by decreasing visceral fat, reducing HbA1c, increasing the density of glucose transporter type 4, and improving insulin sensitivity.
Enhancing cardiovascular health, by reducing resting blood pressure, decreasing low-density lipoprotein cholesterol and triglycerides, and increasing high-density lipoprotein cholesterol.
Promoting bone development, with studies showing 1% to 3% increase in bone mineral density.
Reducing low back pain and easing discomfort associated with arthritis and fibromyalgia.
How to exercise to gain muscle over 60
The workouts consist of an "A" routine and a "B" routine. You will be working out 2 days a week, with a minimum of 2 rest days in between each workout.
You can work out on the same days of the week, every week; or you can work out every third day, whichever day of the week that falls on. You will alternate between the A and B workouts.
As you get stronger, eventually you need more recovery, and the workouts eventually get cut back to once a week, which is what I do.  You will be training your whole body in each workout, using one set of no more than 8 total exercises.
You will be exercising your legs first, since they have your biggest muscles and require the most energy. You will then move on to the upper body, then the midsection, then finish with 2-3 "rebuilding exercises" for body parts you've injured in the past and/or are concerned about protecting against injuries in the future.
The exercises can be performed using whatever equipment is available in your gym, as long as the exercise you choose coincides with the movement you are supposed to be doing.
The higher the intensity on each set you do, the better your results will be. Your goal on every set is to reach 100% intensity, the highest possible level, which means exerting a maximum effort. The last rep you perform in each set you do should be the last rep you can possibly perform with proper form. When you work out in this fashion, only one set of each exercise is necessary.
Best workout for stronger muscles after 60
Here's the exact workout I did during the InBody Challenge that stimulated a gain of 2.2 pounds of muscle mass:
Week 1 – A Routine
Lower body push – Leg press
Lower body flexion – Calf raise on leg press machine
Upper body push – Chest press
Upper body pull – Seated row
Midsection – Ab machine crunches
Rebuilding exercise – Shrugs
Rebuilding exercise – Tricep extension
Rebuilding exercise – Bicep curl
Week 2 – B Routine
Lower body push – Leg extension
Lower body flexion – Seated leg curl
Upper body push – Incline dumbbell press
Upper body pull – Chin up
Midsection – Low back extension
Rebuilding exercise – Rear deltoid raise
Rebuilding exercise – Neck flexion
Rebuilding exercise – Vertical dumbbell hold (grip strengthening)
Week 3 – repeat A Routine
Week 4 – repeat B Routine
What should I eat to gain muscle after 60?
Once you've stimulated your muscles to get bigger and stronger with your workouts, it's important to give your body the nutrition it needs to make those changes happen.  The best way to ensure this happens is by tracking what you eat using a calorie counting app.
The one I used for the InBody Challenge was the Lose It app free version.  Another good one is My Fitness Pal, but I haven't personally used it.
The Lose It app asks you a series of questions to determine your optimal number of daily calories to achieve whatever goal you tell it you want to achieve, and in my experience it's pretty accurate.
Once you know the total calories you're shooting for each day, you need to focus on getting enough protein to build your muscles up.  People over 50 need 1.6 grams of protein per kilogram of body weight per day to get best results.
If you measure your body weight in kilograms, multiply what you weigh x 1.6, and that's how many grams of protein you need a day.
For example, if you weigh 75 kilos you need 120 grams of protein a day.  (75 x 1.6 = 120.)
If you're in the U.S. like me and you measure your body weight in pounds, you first divide your weight by 2.2, then multiply that number x 1.6.
For example, if you weigh 165, you'll need 120 grams of protein a day.  (165 divided by 2.2 = 75, x 1.6 = 120.)
As long as you meet your protein requirement, the carbohydrates and fats you consume will make up the rest to keep your total calories where they should be everyday,
Summary
Commit to a 4-week goal of not missing any workouts, strength training with a maximum effort on every set, and tracking your daily calories using an app like Lose It or My Fitness Pal.  It's much easier to commit and focus to a short time frame like this.
Make your strength training workouts brief, intense and infrequent for best results – 1 set per exercise performed to a point of muscular failure (with good form), 8 exercises or less per workout, one or two workouts per week with at least 2 days in between each workout.
Make sure to get 1.6 grams of protein per kilogram of body weight every day.  (A kilogram is 2.2 pounds.)  For example in my case I weigh 170 pounds, so 170 divided by 2.2 = 77.27, x 1.6 = 123.67 grams of protein per day (I always try to exceed 125 grams).
Get a friend or group of friends involved for extra accountability, fun and increased motivation.
Have you been able to build muscle after 60?  Leave a comment below and tell me about your experience.