On October 22nd, 4 members of the Rock Solid Fitness team (including me) descended upon Las Vegas to attend the 2021 Resistance Exercise Conference.
Every year, the 2-day Conference features the top experts in the world on fitness and nutrition, and attracts gym owners, personal trainers, strength coaches and other fitness professionals from all over the world.  In addition to the Speaker presentations, there are live exercise demonstrations, networking opportunities, and dinner and a party at the end.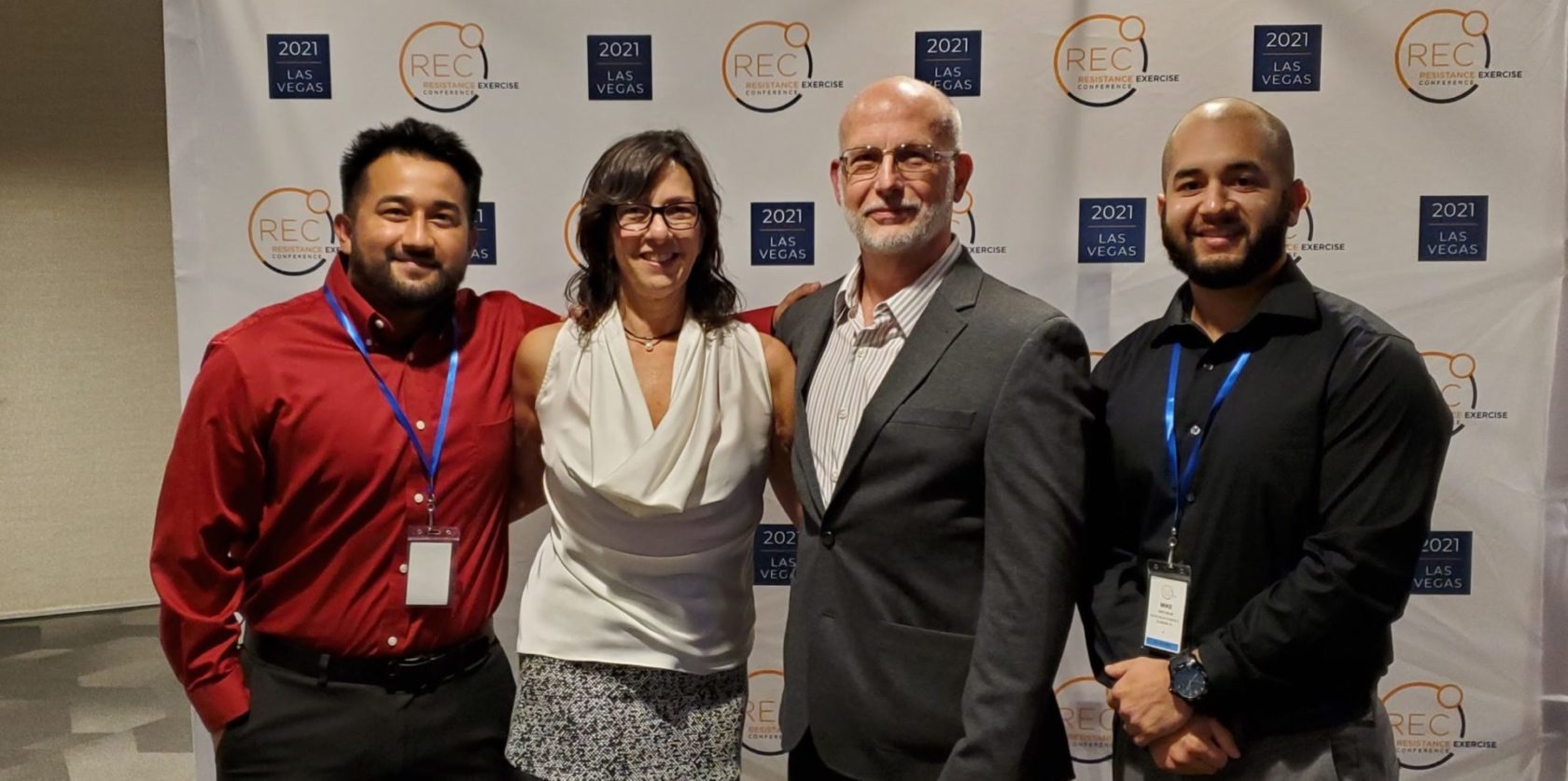 All of the Speakers were great, but there were 2 presentations in particular that pertained to strength training for older adults.
The first was by Luke Carlson, CEO of Discover Strength (they host the Conference), who discussed 10 recent studies on strength training for various populations, including 3 on strength training for older adults.
The Impact of Resistance Training on Body Composition, Muscle Strength, and Functional Fitness in Older Women (45-80 Years)
This study was a systematic review of different studies conducted on 2,519 women from 2010-2020.  The mean age of the participants was 67; on average, they performed 2-3 workouts per week, consisting of 7 exercises for 11 reps per set for 16 weeks.
This review concluded that most of the resistance training studies with older, peri or post menopausal women showed positive results, with or without nutritional supplementation, and can improve muscle mass, strength, and key measures of functional fitness.
So for everybody who didn't think women could build muscle over 50, there's the evidence.
Benefits of Resistance Training in Early and Late Stages of Frailty and Sarcopenia
This study was a systematic review and meta-analysis of randomized controlled studies.  It showed that resistance training produced significant favorable changes in handgrip and lower-limb strength, agility, gait speed, postural stability, functional performance, fat mass, and muscle.
The researchers concluded that resistance training should be considered as a highly effective preventative strategy to delay and attenuate the negative effects of sarcopenia and frailty in both early and late stages.
I talk about this on this site all the time – this is the value of getting on a sustainable strength training program specifically designed for people over 50, so you can stick with it and realize these kinds of benefits later on.
Influence of Resistance Training on Gait and Balance Parameters in Older Adults: A Systematic Review
In this study, the researchers concluded that resistance training has a positive influence on both gait and balance in an aging population.  Resistance training enhances gait parameters, specifically straight-line walking speed, in older adults.  It appears that the improvement can be highly attributed to the significant improvements in lower body strength.  It appears that resistance training is an adequate and safe method to improve balance and gait parameters in people over 65 years of age.
So that's 2 studies in a row that show that strength training improves gait speed in older adults.  By the way, in addition to helping you get places faster, gait speed is a predictor of all-cause mortality – meaning, the faster you can walk when you're old, the less likely you are to die from any cause.  Cool, right?
The other presentation that offered great information about protein needs and strength training for older adults was given by Sara Oikawa, PhD, Senior Scientist in nutrition and exercise physiology research for the Gatorade Sports Science Institute at IMG Academy in Bradenton, Florida.
The key takeaways from Sara's presentation for us older folks engaged in strength training were:
Skeletal muscle mass is lost with age – due to sarcopenia (natural age-related muscle wasting).
Dietary protein needs increase as we age –

we need up to 63% more protein after age 60

compared to age 18-30!
Protein quality is crucial for older adults – All essential amino acids must be present.  For supplementation: whey protein is the best, collagen is the worst.
Limit periods of disuse as much as possible – extreme inactivity such as bedrest can cause a 1% loss of muscle mass and 3% loss of muscle strength per year.  Minimize bedrest as much as possible if you get sick or injured, and stay active when you're not!
Resistance exercise is the key to counteracting muscle loss from disuse – but we all knew that, right?
So for us, the Conference was a great time of learning, seeing old friends, making new ones, and learning from the best in the business.  We even had a little time left over to check out the Las Vegas scene.
And hopefully for you, this research reinforces your commitment to strength training as you age.  I often say that strength training is the closest thing we have to a real-life Fountain of Youth – and there's plenty of evidence-based research to back that up.
Leave a comment below and let me know your thoughts on this latest research.