When I meet people and they find out I'm in the fitness business – and they see how old I am 😊 – the topic of weight lifting over 50 often comes up.
And many times they'll go on to tell me about an exercise routine they're currently doing, or something they heard about and are considering.  And they want to get my opinion on it.
Almost every time, I find out they're doing way more than they require to get good results.  So I tell them ways to make their training more time-efficient.
But more and more lately, I also learn the exercises they're doing more than just a waste of time – they're actually outright dangerous.
And I've figured out a reason why:
People want to hang on to their youth by performing athletic-type movements in their workouts.
There's this trend in the fitness industry right now towards "functional", performance-oriented training, supposedly designed to make you stronger, faster, more explosive, jump higher, whatever.
And many people who start weight lifting over 50 erroneously come to believe that performing these types of exercises in their strength training routine will keep them youthful.
Big mistake.   You're going to get hurt, and find out you don't recover from injuries as well as you did when you were a kid.
Much better to strength train using tried-and-true exercises that are much simpler to perform, much safer, and way more effective, and then go apply that strength and engage in some physical activities that you enjoy.
And lo and behold, you've achieved the same goal of feeling youthful and staying a kid at heart – without the injuries.
In this post, we'll go over 5 exercises that people over 50 should avoid, and what you can do instead to create a weight training program for yourself that is effective, safe, time-efficient, and sustainable.
Related content on weight lifting over 50:
What are some common weightlifting mistakes that people make after 50 years old?
Bad/dangerous exercise selection – Any exercise with no way to exit safely at any point during the exercise is a recipe for disaster.  Make sure you can get out from under the weights safely at any point.
Momentum-assisted reps – Exercises like kettlebell swings, power cleans, and any version of Olympic weightlifting movements will do more harm than good, and have no place your workout routine. In addition to the astronomically high risk of injury, the fast speed of movement incorporates the force of momentum to lift the weight, taking tension off your muscles and making the exercises less effective.
Orthopedically unfriendly positioning – If you want your shoulders to stay healthy, don't put anything behind your neck.  This includes barbell squats and behind the neck pulldowns or shoulder presses.
Remember – strength training is supposed to help you, not hurt you.
Exercises To Avoid After 50
Any form of an Olympic lift
Olympic lifts are the movements that you see weightlifters perform in the Olympics, called the snatch and the clean and jerk.  There are also variations that are done in training, which are basically segments of the full Olympic lifts, with such names as power cleans, push jerks, and others.
These types of lifts are very popular at certain commercial gyms that I won't mention the name of, but that you've probably heard of.  They have a big competition named after them which is shown every year on television.
Olympic lifting is a sport, and the Olympic lifts and their variations are what Olympic lifters do to practice their sport.  They weren't meant to be a form of exercise for people who don't compete in weightlifting, but that's what has happened.
There are 2 main problems with performing these exercises if you are an an average person engaging in weight lifting over 50 who just wants to be healthy and fit.
First, these lifts are extremely complex athletic skills.  It takes years of practice to perfect these skills to the point where you can use meaningful resistance safely.  And to do so you need an expert Olympic lifting Coach, not the average personal trainer.  Why go through that when you can choose much simpler exercises that you can start benefitting from right away?
The second problem is that these lifts inherently require a lot of momentum to complete.  Momentum is very bad for people weight lifting over 50.  It can turn a 100 pound weight into 500 pounds of damaging force on your joints.  Obviously that is no bueno.
To make the exercise easy on your joints but hard on your muscles, you need to lift the weight through the force of muscular contraction alone, by doing it slowly.  This is literally impossible when performing Olympic lifts and their variations.
Kettlebell swings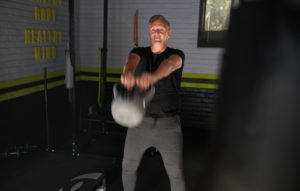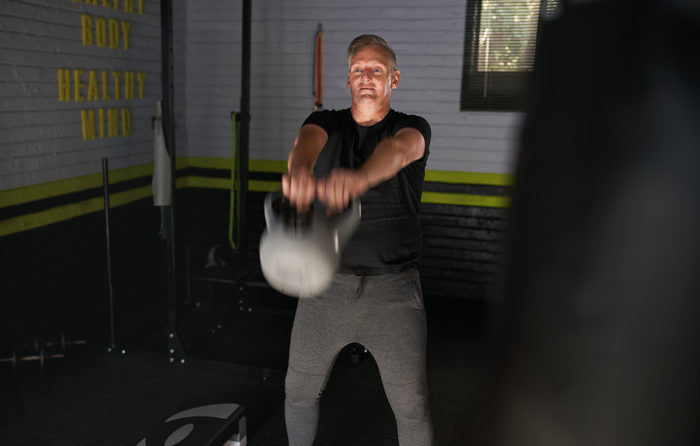 Swinging a weight with both hands from between your legs to shoulder height provides a ton of resistance at the bottom of the movement, and essentially no resistance at the top.  This is the opposite of what you want if your goal is to get stronger and/or build muscle.
Kettlebell swings may look and feel cool to do, but they do virtually nothing to build strength and muscle, and carry a high potential for injury.  Not a good use of your precious time.
Barbell squats
When  first started working in physical therapy in the mid '90's, I had a muscular guy as a patient who had been diagnosed with a rotator cuff strain.
I asked him how he hurt his shoulder, and he said by holding a barbell on his upper back while doing barbell squats.
I suggested he try substituting the leg press to develop his lower body, which would save not only his shoulders but also his knees and low back.
He refused.  I asked him why.
His response was "Because I like hearing the plates rattle".  (You can't make this stuff up folks.)
2 months after we discharged him from therapy, he was back – to rehab his shoulder after rotator cuff surgery.
Needless to say, he didn't squat, or do any weight lifting exercise, for a long time.
Holding the barbell in place on your back puts your shoulder joints in an extremely vulnerable position, and is a recipe for disaster.
And resting a heavy barbell on your spine is not good for it.  You should always be good to your spine.
Don't end up like the rattling plates guy.  Steer clear of barbell squats.
Box jumps
Jumping up on, or over, wooden boxes has literally nothing to do with productive strength training.  There is no resistance being applied to the working muscles during 90% of the exercise.  This is the case whether you are jumping over a 6 inch box or a 6 foot box, so there's no progressive overload, which is an absolute requirement for building strength and muscle.
The only thing you're going to get out of box jumps is an injury.  Bottom line: don't jump on or over anything during your workouts.
Anything called a toss, pass or throw
Any exercise that involves jumping, throwing, swinging, catching or balancing has no place in your routine.  You won't effectively overload the working muscles if you're focused on these things, and the risk of injury is unacceptable and unnecessary.
How can you stay safe while lifting weights over 50 years old?
Pick exercises where all you have to worry about is pushing or pulling with your working muscles to a point of muscular failure, without having to worry about losing your balance.
Make sure you can exit the exercise safely at any time, so you can go all out without worrying about anything falling on you or getting stuck under something.
Add some "rebuilding" exercises to your workout to directly strengthen any problem areas you may have. These will vary for each individual, and many people neglect these important movements in favor of "big" exercises only.
Remember: if an exercise looks dangerous, it probably is!
What are the benefits of strength training after 50 years old?
Weight lifting over 50 is less about appearance and more about health and function.  Building and maintaining a high level of muscular strength makes all physical activity easier, and allows older people to have the highest possible level of pain-free function.
And the health benefits of weight lifting over 50 are far-reaching:
Improves glucose metabolism, which is important for combating diabetes;
Increases resting metabolic rate, which is basically the amount of calories you burn at rest. Muscles are your calorie burning engines, and the bigger and stronger they are, the more calories they need, even when you're resting, which leaves less calories left over to be stored as fat.
Reduces pain and discomfort from arthritis;
Improves bone mineral density, important for those at risk for osteoporosis;
Has a beneficial effect on self-esteem;
And here's an exciting one for use older folks: strength training has even been shown in studies to improve executive cognitive function in seniors, such as improved task performance, enhanced selective attention and conflict resolution. Cognitive impairment and dementia are  obviously big health care issues for seniors, and strength training once or twice a week has been shown to combat cognitive decline.
Beginning weight training over 50
There are specific, objective principles that, when included and properly utilized in a strength training program, will produce immediate, dramatic and continuous results – like increased strength, better mobility, improved body composition, more energy, and more resistance to injuries.
And these results can be achieved with workouts lasting under 45 minutes, performed only once or twice a week, using simple exercises that require no athletic skill and can be done safely at any age.
This combination of principles creates the ideal strength training program for people over 50.
How to get started with weight training over 50
Before starting the actual workout, I recommend people spend a few minutes warming up.  This will increase your internal temperature a little and prepare your body for the workout, like warming up a car before driving on a cold day.
You want to make sure your warm-up includes movement in both your upper and lower body.  If you have an elliptical machine or air bike available that will do the trick.  If you don't, you can use a bike or treadmill for 3-5 minutes for your lower body, and perform a few simple movements with light dumbbells for your upper body.
Just be sure not to turn your warm-up into a workout of its own – you want to do just enough so that you feel you won't injure yourself, and save your strength for the actual workout.
For the large superficial muscles I mentioned – these are the ones everyone knows about; the pecs, the biceps, the abs the glutes, etc. – you can cover your full body with 5 different movements:
A lower body push, such as a leg press exercise, where you are extending or straightening your knees and hips;
Next is lower body flexion, which can alternate between knee flexion, or bending, such as a leg curl exercise – and plantar flexion of the ankles, which mimics pushing the gas pedal and involves your calf muscles, such as a seated or standing calf raise.
Third on our list is an upper body push, which would involve straightening the elbows, such as a barbell bench press, chest press machine, or overhead press;
Then we add an upper body pull, an exercise where we're bending the elbows, such as a pulldown, row or chin up;
And the 5th one is a midsection exercise, either trunk flexion for the abdominals, or trunk extension for the low back muscles, on a machine or a specially designed bench.
Now we move on to the smaller deep muscles of the body, such as the rotator cuff muscles of the shoulder, the neck muscles, or the gripping muscles in our hands.  I call exercises for these muscle groups Rebuilding exercises.  You want to pick exercises for areas of your body that have either been injured in the past, or that you feel are especially vulnerable to injuries in the future.  So the exact exercises vary based on each individual's personal situation, medical history, and available equipment.  I usually recommend 3 of these rebuilding exercises per workout, bringing the total number of exercises performed to 8.
After the strength training workout is a great time to do a little stretching, especially for the shoulders and hips, which tend to lose flexibility as we get older.
Once you get the hang of things, this whole process takes under 45 minutes, and you only need to do it once or twice a week.
How often should you lift weights in order to see results?
Lifting weights every day is a mistake, even if you are training different parts of your body. There is an overall energy drain on your body, and eventually you will get burned out.
Starting out, you should be working out 2 days a week, with a minimum of 2 rest days in between each workout.
You can work out on the same days of the week, every week; or you can work out every third day, whichever day of the week that falls on. You will alternate between two full-body workouts, as described above, preferably with different exercises in each workout.
For example, let's say you have decided to work out this week on Monday and Thursday.
On Monday, you will perform the "A" workout. When you work out again on Thursday, you will perform the "B" workout.
The next week, you can either: repeat the previous week, doing the A workout on Monday and the B workout on Thursday; or, take 2 days off and go back to the A workout on Sunday, rest 2 days and do the B workout on Wednesday, etc.
You continue along in this fashion, always alternating workouts. Whichever one you did last time, do the other one this time, making sure you had at least 2 rest days in between.
Can you still build muscle at 50?
The physiological process of muscular hypertrophy over 50 is the same as any other age, and for both men and women.
Building muscle mass and strength is definitely possible through proper weight lifting after 50.  And, it is one of the most important things we can do to gain and maintain our highest possible level of pain-free function as we get older.
Is lifting weights good after 50?
In fact, properly performed strength training is the closest thing we have to a real-life Fountain of Youth.  Strength training, done properly and consistently, will keep you strong and healthy enough to make the most of your later years.
Thoughts or questions on weight lifting over 50?  Leave a comment below!