How to stay fit over 50 with an injury
Let me paint a picture for you –
You're totally dialed in to your workout routine in your quest to stay fit over 50, and things are going fantastically well.
You've discovered a safe, time-efficient strength training program that you're performing weekly.  On your off days, you're staying active doing moderately taxing activities 2-3 times a week that you enjoy, mostly outdoors.
You feel great, you're full of energy, you barely have any aches and pains, and you are loving life.
And then something happens.
During the course of everyday life, you sustain a pretty bad injury to your hand.  And the doctor says you cannot use that hand at all for 6 weeks.
So you've sustained a hand injury, and you can't grip anything with that hand.  Would you still be able to complete an upper-body workout?
Many people would be forced into a training layoff in that scenario.  If you are unable to grab a barbell, dumbbell or machine handle, how can you possibly work out?
That exact situation happened recently to a long-time user of my Stay Strong Forever Program.  In fact, his injury was so bad he required surgery.
But he's not missing any upper body workouts.
In this post, I'll cover how you can stay fit over 50 even after an injury or surgery, show you specific exercises you can do whether training at the gym or at home, and share the science behind these techniques that I recently learned in person from a University of Mississippi researcher.
Related content on how to stay fit over 50:
The science of staying fit after 50 while injured
Here's what happened to program user Jay, as he wrote to me in an email:
"I had to decrease and eventually step away from this program that I have learned to fully enjoy. Over a period of time I had developed arthritis at the based of my left thumb. I was dealing with it as best I could then winter crept in. Wrestling with the snow blower and then shoveling ( remember, I live in New Hampshire); it finally put be over the edge. I had thumb CMC Arthroplasty surgery on April 6th and I am now in the healing/rehab mode.
Yesterday, May 1, I started working out again albeit a modified program. I am using the principles of your program.  I read a number of articles about working out with a casted limb. From the literature I read it is actually beneficial to do so, rather then not working out at all. Not just an arm cast or splint but for those who may be in a leg cast. Obviously one needs to modify exercises. I am coming along well. I'm in a semi-soft splint and I'm doing my OT  twice a day, everyday at home."
Jay is correct – it actually is beneficial to work out with a casted limb, or any other type of limb injury, rather than not working out at all.  And there's a scientifically proven, physiological reason why.
Cross-education of strength
Last March, I attended the Resistance Exercise Conference in Minneapolis.  The conference brings together some of the top researchers and fitness practitioners in the world.
One of the presentations was titled "An Education In Cross-Education: What's Relevant for You?"  The presenter was Vickie Wong, a researcher from the University of Mississippi.
Cross-education refers to a physiological principle of adaptation.  It means that if you have a limb that is immobilized for whatever reason, if you perform strengthening activities using the opposite limb, there will be a crossover effect to the immobilized limb, and this will not only mitigate the weakening effects of immobilization, but in many cases the immobilized limb will actually get stronger, even though it's not doing anything.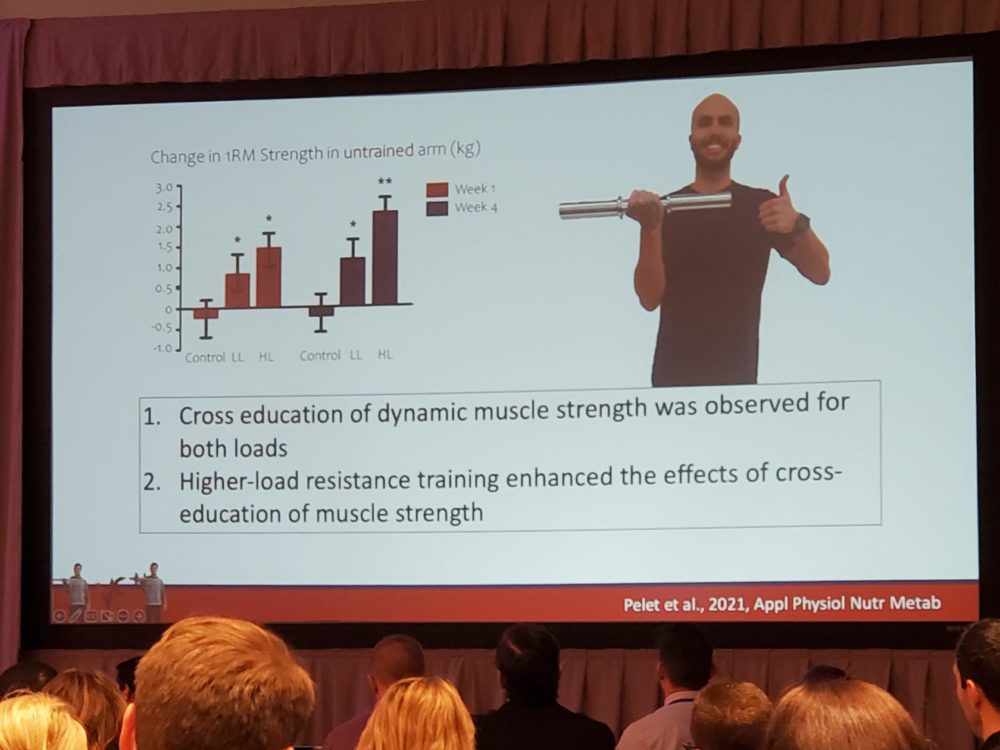 The reason this happens is there a neurological signal sent by the brain from the working limb to the immobilized limb which stimulates the muscles in the injured limb.  It's your brain's way of trying to protect you and help you survive.
KEY POINT:  In the presentation slide above, notice that it says that "higher-load resistance training enhanced the effects of cross-education of muscle strength".  In other words, you get the most benefit by training the rest of your body with a high level of intensity, just like I always say on this site.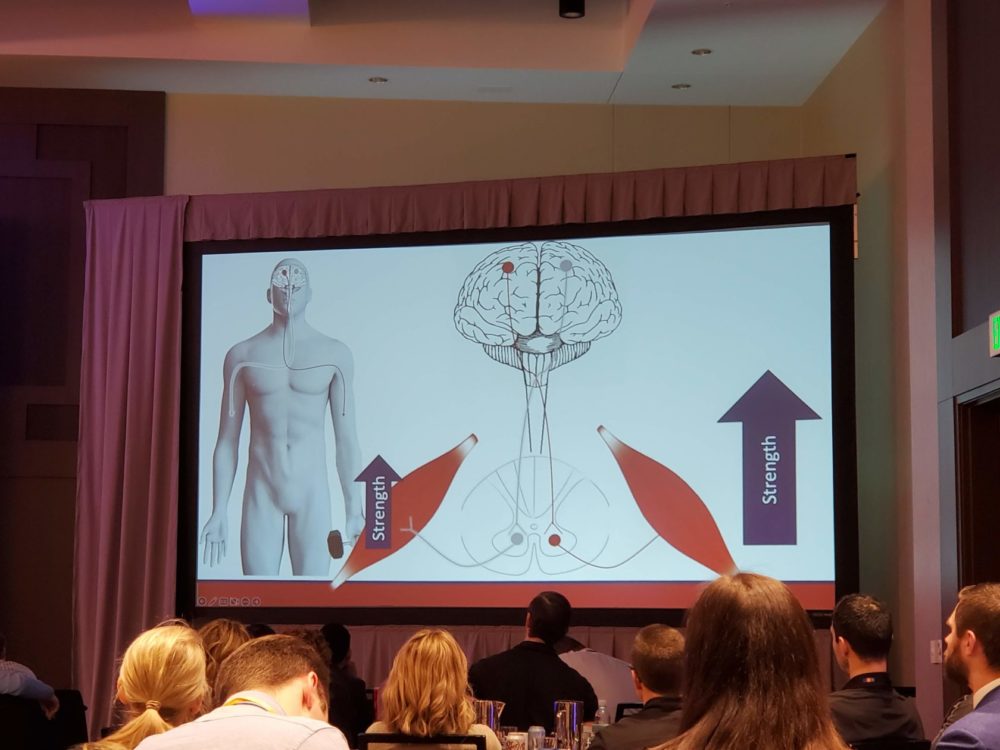 I've used this principle throughout my physical therapy career to treat stroke patients.  And over and over again, I've seen patients benefit, due to the neurological crossover effect.
So what specific exercises can Jay (or anybody else) do so that they can utilize cross-education, stay strong and fit, not re-injure themselves, and even promote faster healing of their injury?
Let's go through a few of them.
1 arm machine exercises:
Shoulder Press

Pulldown

Seated row

1 arm free weight exercises:
Dumbbell shoulder press

Incline bench row

Dumbbell curl

1 leg machine exercises:
(Note: I don't recommend performing the leg press with 1 leg due to increased torque on the pelvis, which can lead to injury.  You don't want to get a new injury while working around an existing injury!)
Leg extension

Leg Curl

1 leg free weight exercises:
Standing calf raise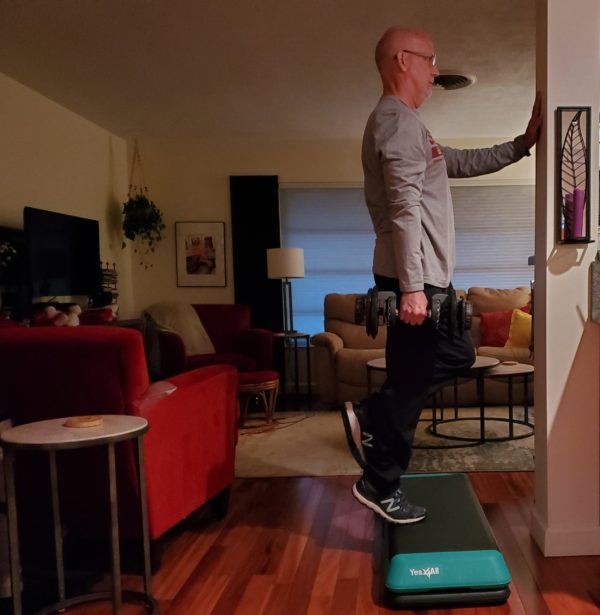 You are only limited by your imagination when training around an injury.  Give some of these techniques a try, and you'll stay in great shape while waiting for your injury to heal.
Understanding Fitness over 50: Other factors to consider
Aging Process and Its Impact
As you age, your body undergoes changes that can affect your physical fitness and overall health.
Key Factors Affecting Staying Fit over 50:
Muscle mass decline
Decreased flexibility, especially in shoulders and hips
Decreased bone density
Gender Differences: it's all about the hormones
Men and women may experience different challenges when it comes to maintaining fitness over 50.
For women, a decrease in estrogen levels can lead to reduced bone density and an increased risk of osteoporosis. To combat this, it's important to incorporate strength training and consume adequate protein in your diet to support muscle development.
For men, a decline in testosterone levels can contribute to a loss of muscle mass and strength. To mitigate this effect, you should also focus on strength training exercises and also prioritize a diet rich in protein.
Remember, age is just a number, and with the right approach, you can continue to stay fit and healthy as you venture into your 50's and beyond.
Specific challenges and tips for staying fit over 50
Dealing with Common Health Issues
As you age, your body undergoes various changes that may affect your overall health. For example, weight gain could lead to higher blood pressure, increasing the risk of heart disease. It is essential to maintain a healthy weight to lower your blood pressure and keep heart health in place.
Aim for 20 to 60 minutes of low to moderate intensity activity two or three days a week.  Also, prioritize eating a balanced diet rich in proteins, whole grains, and healthy fats.
Addressing Muscle and Bone Health
Muscle loss is a natural part of aging, with up to 20% of muscle mass lost by the time you reach 50.  To counter this process, you'll now be engaging in strength training exercises regularly. This not only helps in slowing down muscle loss but also encourages new muscle growth.
Bone density also tends to decline with age, leading to weakened bones and an increased risk of fractures. Incorporating strength training and maintaining a calcium-rich diet will combat this problem.
Posture and Mobility Issues
Your joints might become stiffer as you age, causing mobility issues and affecting your posture. To improve mobility and maintain a proper posture, include stretching exercises and focus on strengthening the muscles of the back and abdominals.
Mental Wellness
Stress Management
It's important to be aware of the impact that stress can have on your mental wellness, especially as you age. In order to maintain a balanced and healthy lifestyle, you should focus on managing stress effectively.
Here are some helpful tips to help you manage stress:
Identify your stress triggers and work on addressing them
Practice relaxation techniques, like deep breathing, meditation, and yoga
Maintain a healthy diet, regular exercise, and get proper sleep
Stay connected with your loved ones and socialize regularly
Focus on activities that bring you joy and make time for hobbies
Motivation and Mindset
Your motivation and mindset play a critical role in achieving and maintaining wellness. Cultivating a positive attitude and staying motivated can greatly improve your mental and emotional well-being.
Here's how you can stay motivated:
Set realistic goals and focus on achieving them
Break your goals into smaller, manageable tasks
Find inspiration in your favorite books, podcasts, or videos
Surround yourself with positive people and create a supportive network
Embrace setbacks and use them as learning experiences
Brain Health
Preserving your brain health is essential as you age. Taking care of your cognitive health ensures that you'll continue to think, learn, and remember efficiently.
There are several ways to promote good brain health:
Engage in mental exercises, like puzzles, memory games, or learning a new skill
Do your strength training – it's been proven to protect your brain
Maintain a healthy diet rich in essential nutrients and antioxidants
Keep your social life active and build strong connections with your loved ones
Sleep
Adequate sleep is crucial for maintaining overall mental wellness. It not only allows your body to recharge, but also gives your brain the opportunity to consolidate memories and process new information.
To improve your sleep quality and overall mental well-being:
Develop a regular sleep schedule and stick to it
Establish a calming bedtime routine incorporating relaxation techniques
Ensure your sleep environment is conducive to rest by keeping it dark, cool, and quiet
Limit your exposure to screens and electronic devices before bed
Exercise regularly, but avoid high-intensity workouts close to bedtime
In summary, staying fit over 50 requires a balanced approach that addresses common health issues, prioritizes muscle and bone health, and tackles posture and mobility challenges. By following these tips and maintaining a consistent workout routine, you can lead a healthy and active life well into your 50's and beyond.
Summary – staying fit over 50
To stay fit over 50 after an injury or surgery, continuing to strength train and stay active is beneficial, rather than not working out at all.
An injured arm or leg can actually get stronger, even when immobilized, by exercising the opposite limb.  This is due to a neurological phenomenon known as cross-education.
Staying fit over 50 requires a balanced approach that addresses common health issues, prioritizes muscle and bone health, tackles posture and mobility challenges, and maintains cognitive function.
By following these tips and maintaining a consistent workout routine, you can lead a healthy and active life well into your 50s and beyond.
Thoughts or questions on staying fit over 50 after an injury?  Leave a comment below!