Weightlifting for Seniors: Safely Enhancing Strength and Fitness
Weightlifting for seniors may not be the first activity that comes to mind when we're talking about health and fitness for seniors – but it should be.
As you age, maintaining muscle mass and strength becomes increasingly important for overall health and wellness.  So weightlifting should be the foundation of an overall fitness plan for seniors.
And I'm not talking about Olympic weightlifting, where you pick a barbell up from the floor as fast as you can and try to lift it overhead. Lifts like that require a ton of athletic skill and are inherently dangerous.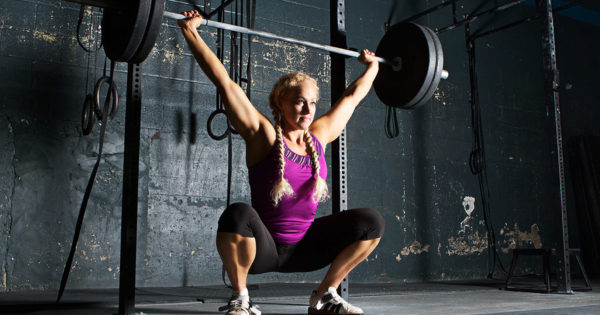 I mean the kind of weightlifting where you move the resistance slowly, smoothly, and safely.
There are 4 components of physical fitness: muscular strength, cardiovascular endurance, flexibility, and body composition.  Of the 4, muscular strength is the one that holds primary importance.  Strength is called upon more often in life than cardiovascular endurance or flexibility, and plays a central role in body composition.
Weight lifting, properly performed, will positively affect cardiovascular endurance, flexibility, and body composition, but endurance training, stretching, or dieting do not improve muscular strength.
So weightlifting gives you the biggest "bang for your buck", and done properly requires very little time – under 45 minutes a couple times a week.
This post will go over the benefits of weightlifting for seniors, the essential exercises seniors should focus on, safety and proper form, and the importance of nutrition and other daily activities for proper recovery.
Related content on weightlifting for seniors:
Weightlifting can provide numerous benefits, both physical and mental, that can greatly improve the quality of life in your golden years.
Incorporating weightlifting into your overall fitness routine can lead to improved bone density, better balance, and increased flexibility, helping to reduce the risk of falls and fractures.
Additionally, strength training has been shown to enhance cognitive function and decrease the risk of developing chronic diseases such as osteoporosis and arthritis. By engaging in regular weightlifting workouts, you can achieve greater independence and enjoy a more active lifestyle.
Before beginning a weightlifting program, it's important to consult with a healthcare professional if you have any medical conditions you're concerned about.  Seeking information on weight training programs specifically designed for seniors can be an excellent way to learn proper techniques and establish a safe, effective routine.
Benefits of Weightlifting for Seniors
Improving Balance and Stability
Weightlifting can help improve your balance and stability by strengthening the muscles responsible for maintaining your posture and alignment (primarily the muscles of the hips and ankles). Resistance training, in particular, can help improve your functional abilities, making it easier for you to perform daily tasks and maintain an active lifestyle.
Increasing Muscle Mass and Strength
As you age, your muscle mass and strength can decrease due to inactivity and hormonal changes. By engaging in regular strength training, you can stimulate muscle growth and increase your overall strength. This can help you maintain independence and energy, enabling you to lead a more active and engaged life.
Reducing Age-Related Muscle Loss
Age-related muscle loss, or sarcopenia, is a common issue for seniors. By participating in regular weightlifting sessions, you can slow down or combat this age-related decline in muscle mass, helping maintain your physical capacity and overall health.
Preventing Falls and Injuries
Increasing your muscle strength and enhancing your balance can help prevent falls and injuries that can result in long-term complications. Weightlifting can specifically target the muscles in your hips, ankles, abdominals and low back, which are essential for maintaining stability.
Improving Bone Density
Weightlifting, a form of resistance training, can help improve your bone density by stimulating bone growth and reducing the risk of osteoporosis. This is crucial because strong bones can help prevent fractures and keep you mobile as you age.
Enhancing Mobility and Flexibility
Weightlifting can improve your mobility and flexibility by moving your joints through a full range of motion under resistance and helping you maintain functional movement patterns. Regular strength training can increase flexibility in your joints and pliability in your muscles, allowing you to perform everyday tasks with more ease.
Reducing Risk of Chronic Diseases
Participating in weightlifting exercises can help lower your risk of chronic diseases, such as diabetes, heart disease, and high blood pressure. Regular strength training can improve your overall heart health and help keep your blood pressure within a healthy range. Moreover, resistance training can improve insulin sensitivity, reducing the risk of diabetes.
Boosting Mental Health
Engaging in regular weightlifting exercises can have positive effects on your mental health by releasing endorphins, which can alleviate feelings of depression and anxiety. Additionally, maintaining a regular exercise routine – including strength training – can help stave off cognitive decline, keeping your mind sharp as you age.
Essential Weightlifting Exercises for Seniors
As you age, maintaining muscle strength and function is crucial for healthy living. Incorporating weightlifting exercises into your routine can help you maintain your mobility and independence. In this section, we will cover a variety of exercises that target various muscle groups and can be performed using various equipment like dumbbells, barbells, and gym machines.
Chest Press and Push-Ups
Chest presses and push-ups are excellent for building upper body strength, particularly in your chest and arms.
Chest Press – Adjust the seat so that the handles are at mid-chest level.  Adjust the handles so that your elbows are bent at a comfortable angle in the start position, no more than 90 degrees.
Sit on the seat with your back firmly against the back pad.  Grasp the handles and push forward until the elbows are almost straight (2 seconds). Change direction smoothly and return to the starting position (4 seconds), gently touch the weights together, change direction smoothly, and repeat.
Push-up – Start on floor on knees and hands.  Position your hands slightly wider than shoulder width and roughly in line with nipple height.   Move into the start position from your knees (beginner) or feet (advanced) by moving your legs away from your hands until your back is flat, creating a straight line from your shoulders to your knees and/or feet.
From the top position, keeping your abdominals tight to keep your back straight, lower yourself toward the floor in 4 seconds.  Do not go lower than humerus (upper arm) bone being parallel with the floor to avoid overstretching the shoulder.
Smoothly change direction and push up to the start position in 2 seconds.  Smoothly change direction and repeat.  When finished, return to the hands and knees position to exit the exercise.
Note: Do not use a wide/overhand grip – it is less effective and bad for your shoulder joints.
Seated Row and Dumbbell Row
Seated rows and 1-arm dumbbell rows work your back and posterior shoulder muscles, supporting better posture and upper body strength.
Seated row – Sit on the seat facing the handles and plant your feet firmly. If there is a chest pad on your machine, lean up against it firmly. Adjust the seat and/or chest pad as needed so your elbows can fully straighten in the start position.
Grasp the handles and pull back smoothly until your hands are next to your sides (2 seconds), keeping your back straight and your head up. Pause; return to the start position (4 seconds), change direction smoothly and repeat.
Dumbbell row – Position a dumbbell next to the right side of  your exercise bench.  Place your left hand and left knee on the bench with your elbow straight.  Your right arm will be extended toward the floor directly above the dumbbell, with your right foot on the floor even with your left knee on the bench.
Carefully lift the dumbbell off the floor with your right hand, keeping the right arm straight in the start position.  Keeping your back flat throughout the exercise, pull dumbbell up, lifting the elbow as high as possible and touching your right hand to your ribs in 2 seconds.  Pause in the top position for 1 second, then slowly lower to the start position in 4 seconds.
Lunges and Leg Press
Lunges and leg presses target the lower body muscles, including the glutes, quads, and hamstrings.
Lunges – In a standing position with your feet shoulder width apart, stagger your feet by taking a long step backward with your right foot.
Keeping your back straight and your torso fully upright, smoothly lower yourself toward the floor in 4 seconds by bending your knees, until your right knee gently touches the floor.    Smoothly change direction and return to the start position in 2 seconds, then smoothly change direction and repeat.
In the bottom position, your left knee should be directly over your ankle.  Do not move your feet until finished.  Do not lean forward at the waist at any point throughout the exercise.
When finished, switch legs and repeat.
Leg Press – Set the seat so that your knees are at a comfortable angle, not more than 90 degrees.
Sit on the seat with your lower back firmly braced against the back pad and your feet about shoulder width apart on the foot plate.  Hold the handles next to the seat.
Push with your feet until your knees are almost straight (2 seconds).  Change direction smoothly and slowly return to the start position (4 seconds).  Let the weights gently touch, then change direction smoothly and repeat.
For a leg press, sit on a leg press machine, placing your feet on the footplate. Push the weight away, fully extending your legs. Return to the starting position and repeat.
Shoulder Press
A shoulder press helps strengthen your shoulders and arms.
To perform this exercise, use a machine or hold 2 dumbbells at shoulder height.  Keep your hands in a neutral position (with palms facing inwards towards each other).
Push upward until your elbows are almost straight (2 seconds). Smoothly change direction and lower to the start position (4 seconds), smoothly change direction and repeat.
Safety and Proper Form
Warming Up
Before starting your weightlifting routine, it's essential to spend some time warming up.
Warming up helps to increase your heart rate and blood flow, which prepares your muscles for the workout. You can do light aerobic activities such as walking or cycling for 5-10 minutes. Follow this with a few upper body movements with light dumbbells, focusing on the muscle groups you'll be targeting during your workout.
Choosing the Right Weight
As a senior, it's crucial to choose the right weight when starting a weightlifting program.
Initially, this will take some experimentation on your part. Your goal is to find a weight that allows you to perform at least the minimum number in the rep range, but not more than the maximum number.
Take a guess, erring on the side of caution and choosing a weight you think will be kind of light.  Start performing reps with proper form, aiming for the suggested rep range (9-12 for legs and midsection, 7-10 for upper body).
If you perform 5 or 6 reps and the weight still feels really light, stop and increase the weight a little, and start over.  Conversely, if you are forced to stop at 5 or 6 reps, take some weight off and try again.
If you can't get to the minimum number of the rep range, the weight is too heavy.  If you reach the upper level of the rep range easily, the weight is a little light.  And if you are forced to stop due to muscular fatigue somewhere between the minimum number and the upper level number of the given rep range, the weight is just right.
Ensuring Correct Technique
Proper form is vital to avoid injuries and maximize your results.
Begin each repetition slowly and smoothly; no fast or explosive starts, just gradually increase the force you're exerting until the weight moves, then keep it moving.
Lift the weight under full muscular control – don't throw it.  The lifting phase should take about 2 seconds.
Lower the weight even slower, in about 4 seconds – don't drop it.  Your muscles are stronger on the lowering phase, and if you just let the weight drop you are wasting the rep.
Incorporating Rest Days
Rest days are a crucial component of any fitness routine, especially for seniors. Ensure you're taking at least two or three days in between workouts, giving your muscles time to recover. Avoid working out too frequently, allowing your body to rebuild and strengthen.
Addressing Muscle Soreness and Recovery
Muscle soreness can be a common side effect of weightlifting, but it's essential to know the difference between normal soreness and pain signaling an injury. If you experience sharp, stabbing pain, consult with a healthcare provider.
To aid recovery, consider incorporating post-workout stretching.
Consulting with a Healthcare Provider
Before starting a weightlifting program, it's a good idea to consult with your healthcare provider, especially if you have pre-existing medical conditions. Your healthcare provider can offer guidance on safe physical activity levels and provide recommendations on appropriate exercises, helping you to optimize your workouts while minimizing risks associated with age-related muscle loss.
Fitness Program Modifications for Seniors
As a senior, it's essential to incorporate strength training exercises, such as weightlifting, into your fitness routine. These activities help maintain muscle mass and can help improve overall quality of life. This section provides some guidelines and ideas for tailoring weightlifting programs to your needs, while addressing modifications for older adults.
Exercise Alternatives and Modifications
Strength training exercises can be modified to your level of fitness and for those with limited mobility:
Determine a comfortable stretch position for every exercise. If it's difficult or painful to get into a machine or reach the stretch position during the exercise, you're going too far.  Write the equipment setting in your training log (you are recording your workouts, right?) and go back to it every time you perform that exercise.
Always work in a pain-free range of motion. This may change from time to time, so don't be afraid to change the way you've been doing an exercise if it starts to hurt.  Strength training is supposed to help you, not hurt you.
Pick exercises where all you have to worry about is pushing or pulling with your working muscles to a point of muscular failure, without having to worry about losing your balance.
Make sure you can exit the exercise safely at any time, so you can go all out without worrying about anything falling on you or getting stuck under something.
Nutrition and Daily Activities
Optimizing Diet for Muscle Building and Recovery
Paying attention to your nutrition is crucial for seniors who participate in weightlifting.
Consuming adequate calories and focusing on a balanced can contribute to muscle building and faster recovery time.
Make sure to include protein-rich foods to support muscle growth, as well as fruits and vegetables for essential nutrients.
In addition, stay hydrated by drinking water frequently throughout the day.
Limiting processed and high-fat foods can also aid in fat loss and overall health improvement.
Managing Stress and Sleep
It's important to address stress and ensure adequate sleep for a successful weightlifting routine.
Find ways to manage your stress, such as mindfulness practices or engaging in relaxing hobbies.
Adequate sleep is vital for muscle recovery and maintaining good mood. Aim for 7-9 hours of sleep per night, and consider taking naps if needed to support your energy levels.
A well-rested mind and body will ensure better performance and stamina during your weightlifting sessions.
Staying Active and Engaging in Everyday Tasks
Incorporating various forms of physical activity into your daily routine, besides weightlifting, can contribute to better balance training and improve mobility. Consider performing exercises that are rhythmic in nature and are low to moderate intensity, such as:
Walking or hiking
Cycling
Pickleball
Swimming
Including functional movements like these in your daily life can improve your ability to perform everyday tasks and potentially reduce the risk of falls or injury. Activities such as carrying groceries, climbing stairs, and gardening can also promote muscle memory and contribute to longevity.
By focusing on a balanced approach to your nutrition, managing sleep and stress, and staying active in everyday tasks, you're setting yourself up for success in your weightlifting journey as a senior.
Remember, consistency is key to achieving your goals and reaping the benefits of a healthy and active lifestyle.
Frequently Asked Questions
What is a safe weight training routine for seniors?
As a senior, you should focus on exercises that target major muscle groups and improve stability. Start with lighter weights and gradually increase resistance as you build strength. A few examples of safe exercises include seated rows, seated leg presses, and seated chest presses. Make sure to consult your doctor if you have medical conditions before beginning a new workout routine.
Is there a recommended frequency for weightlifting for older adults?
For optimal results, aim to incorporate weightlifting into your workout routine one to two times per week. This allows your muscles adequate time to recover and regenerate. Be sure to listen to your body and adjust your frequency as needed, depending on your level of fitness and overall health.
Which dumbbell exercises are suitable for older adults?
Dumbbell exercises can be an effective way to build muscle strength in older adults. Some suitable exercises for seniors include seated shoulder presses, lunges, and 1-arm dumbbell rows. Remember to start with a weight that you can comfortably lift without while you maintain proper form throughout the exercise.
How can a senior woman start weightlifting?
Senior women can begin weightlifting by focusing on proper technique and gradually increasing weight as strength improves.  Always warm up your muscles before starting a workout, and prioritize exercises that target major muscle groups.
What are the best weightlifting exercises for seniors?
The best strength exercises for older individuals focus on functional movements and improving overall stability. These are multi-joint exercises involving the large muscle groups of the body in a consolidated fashion.  These exercises can help improve balance, coordination, and muscle strength to support your daily activities.
Summary – Weightlifting for Seniors
Weightlifting can provide numerous benefits, both physical and mental, that can greatly improve the quality of life in your golden years.
Research has found that weightlifting helps seniors prevent bone and muscle loss. and may even help prevent dementia.
Benefits of weightlifting for seniors include improved balance and stability, increased muscle mass and strength, reducing age-related muscle loss, preventing falls and injuries, and reducing the risk of chronic diseases.
Essential weightlifting exercises for seniors are multi-joint movements such as chest presses, lunges or leg presses, and rowing exercises.  Always move the weight slowly and smoothly, and strive to progressively increase the resistance as you get stronger.
Start your weightlifting journey today and experience the transformative benefits it offers.  Embrace the strength within you and enjoy an active and fulfilling life, regardless of age!
Thoughts or questions on weightlifting for seniors? Leave a comment below!